NO, IT'S NOT PLANET X'S DUST CLOUD "WAFTING" IN FRONT OF THE SUN -- IT'S THE BI-ANNUAL EQUINOX ECLIPSE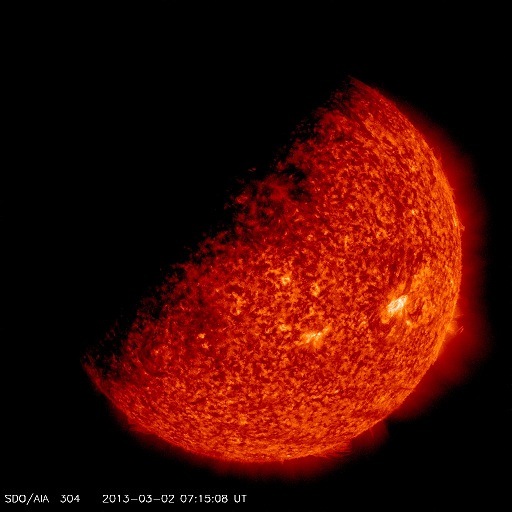 SDO ECLIPSE SEASON BEGINS: Twice every year, around the time of the equinoxes, Earth can pass directly between the Sun and NASA's Solar Dynamics Observatory (SDO), producing a series of beautiful eclipses from the point of view of the spacecraft. SDO's vernal eclipse season began this weekend, producing a partial blackout of the sun:
During the eclipse, which was centered around 0715 UT on March 3rd, Earth covered about half of the sun. Because these eclipses typically last for only minutes each day (maximum=72 minutes), there is still plenty of uninterrupted time for SDO to monitor activity on the sun. The ongoing eclipse season will end in approximately three weeks. Between now and then, stay tuned for some rare blackouts.
http://www.spaceweather.com/archive.php?view=1&day=02&month=03&year=2013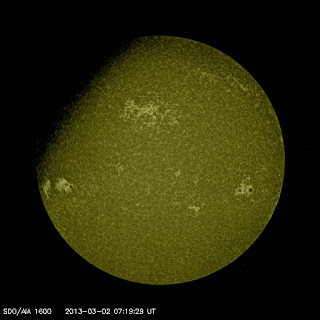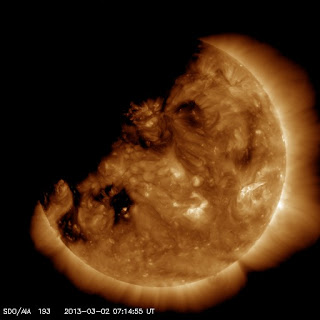 http://sdoisgo.blogspot.de/2013/03/spring-2013-eclipse-season-has-begun.html
Home